Expatistan's press room
Organizations using Expatistan's data, mentions in the press and media, quick facts, and useful resources for journalists.
Market research and Analysis using Expatistan as data source
Newspapers, magazines, blogs and other media
For Foreigners, Australia Offers the Most Expensive Education
The New York Times
Article about a report on Education Costs by HSBC that used Expatistan as cost-of-living data source.
Living in: The world's most affordable cities
BBC Travel
"...movie tickets and cocktails cost half as much as they do in New York City and London, according to international price database Expatistan."
Mapping the Cheapest Cities for Living the Expat Life
The Atlantic Cities
"So when wanderers wonder if their salary might stretch further in Barcelona or Milan, why not direct them to the experience of their peers? That's the premise of Expatistan, a user-generated cost of living index."
Study costs worldwide: Germany, you're cheap (German)
Spiegel
"In addition, they evaluated the information provided by the website Expatistan from where each user can enter his living expenses. Overall, data are from 1,600 cities."
The Most Expensive Places To Live In The World
Business Insider (2011)
"Data from Expatistan was used to validate and support the rankings provided by ECA International's cost of living survey."
This Map Shows The Most Expensive Cities In The World
Business Insider (2014)
"The team at Expatistan calculated the price index value for hundreds of global cities based on the current cost of items such as housing, clothes, transportation, medicine, and food."
Sydney 11th-priciest city in world, according to crowdsourced comparison
The Sydney Morning Herald
"Sydney is the 11th-priciest city in the world and 25 per cent cheaper than first-placed London, based on groceries, electronics, rent and other everyday items, according to Expatistan.com."
Welcome to London, the most expensive city in the world: Soaring rent and petrol prices drive capital above New York and Paris in terms of costs of essentials
Daily Mail
"The figures come from the cost of living experts Expatistan.com, who produced their report after comparing information from almost 200,000 users around the world to calculate average prices in 1,600 cities."
$15 minimum wage permits few luxuries in US cities
SFGate
"Expatistan, a website that tracks the cost of living in cities around the world, says New York, San Francisco, Washington, D.C., Honolulu, Boston and Seattle are the most expensive U.S. cities overall, in that order."
Why gourmet fast food is on a roll and we are willing to pay through the nose to eat it
The Daily Telegraph
"Comparison site Expatistan says food in Sydney is 44 per cent more expensive than in Hong Kong."
Brisbane named the country's hippest city by Lonely Planet Australia travel guide
ABC News
"The Expatistan website recently rated Brisbane the world's 13th most expensive city, ahead of Tokyo (19), Stockholm (15) and even Melbourne (18). Of Australian capitals, only Sydney came in ahead at number 11, according to the site's Cost of Living Index, which compares such expenses as monthly rent, movie tickets, transportation, grocery costs and gym membership.
Cost of Living for Expats Soar in Africa's Oil-Rich Capitals
All Africa
"According to a survey on the online cost of living calculator Expatistan, Juba is around 30 percent more expensive than Nairobi, with food and entertainment the biggest differentials."
This Map Shows The Most Expensive Cities In The World
Yahoo! Finance
"This map shows the cost of living index scores from site Expatistan, with red showing more expensive cities and green showing cheaper cities."
Fancy a bargain-basement holiday? You asked for it!
MSN News
Expatistan was used as a primary source for this article in MSN News.
Cost of Living Tool
news.com.au
Article comparing cost of living in Australia and elsewhere using Expatistan's data as source.
Website helps compare the cost of expat living
The National
Article about Expatistan in the online and printed version of The National, the first English-language publication in Abu Dhabi.
The Most Expensive Cities In The World, According To Expatistan
The Huffington Post
"According to a team at Expatistan, which calculated a "cost of living index" for hundreds of global cities, these wallet-busting metros are the most expensive based on their current costs of housing, clothes, transportation, medicine and food."
Keep Hold of Those Pennies as London is Now the Most Expensive City in the World
Gizmodo
"Beating Oslo, Geneva, Paris and New York to the dubious title, the UK's capital is now the most expensive city in the world, according to a study by cost of living researchers at Expatistan. Comparing more than 775,000 prices submitted by 201,500 users in over 1,600 cities across the globe, London beats even notoriously pricey Sydney."
London Is Now The Most Expensive City In The World
BuzzFeed
"London has topped a study of city prices by cost of living experts Expatistan."
Expatistan Compares Cost of Living Between Two Cities
Lifehacker
Early review of the site in the influential Lifehacker site.
Expatistan Interview With Gerardo Robledillo
MyCurrencyTransfer
Interview with Gerardo Robledillo (Expatistan's founder).
18 Ciudades Más Baratas De Latinoamérica En El 2018
Comologia
Analysis of cost of living differences in South America using Expatistan's data.
Beer Prices
9 News Perth - Jun 19th 2014
News piece on Beer prices in Australia, based on data from Expatistan.
Costo de Vida
Plug TV program - Sept 20th 2011
Review of Expatistan.com in Plug, technology program aired weekly on Proyecto 40 (Mexican cable and satelite TV).
Quick facts about Expatistan
Publicly launched in December 2009. Created and maintained by a single person.
Collaborative database of prices (crowdsourced, like Wikipedia). The website users enter the prices for their own cities.
Compiles prices for 57 various products and services divided into 6 categories (Food, Housing, Clothes, Transportation, Personal Care, and Entertainment).

Prices collected: 3,379,000
Cities covered: 1,900
Contributors: 389,000

Compiles a real-time cost-of-living index for the top 162 cities.
Uses Prague as anchor value (Prague = 100)
Logos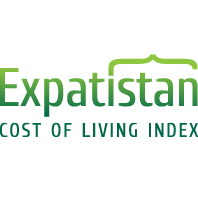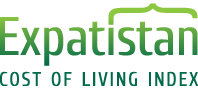 Contact
Gerardo Robledillo <gerardo@expatistan.com>