Posted By Gerardo (gerardo@expatistan.com) on 28/06/2016
Expatistan is the original (and best, if we may say so) worldwide cost of living calculator. We compare the cost of living between over 2,000 cities and 204 countries to give potential expats a better understanding of their future homes.
Naturally, we spend lots of time analysing the comparisons that our users make. We see the relative interest people in each city have in moving elsewhere, and how that interest changes over time. And in the run-up to and immediate aftermath of Brexit, we noticed some very interesting activity…
Although the number of visitors to our site has increased over the past few weeks in general, the number of UK visitors in particular saw a huge spike. In the two days following Britain's EU referendum, UK visitors increased by more than 30%.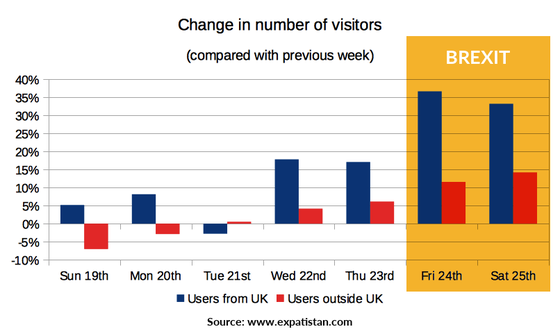 Actual comparisons on our site saw a similar trend on the same days (Friday 24th and Saturday 25th); comparisons between UK cities and non-UK cities jumped by 50.8% from the previous Friday and Saturday. There was only a 13.2% increase in comparisons not involving the UK on the same dates.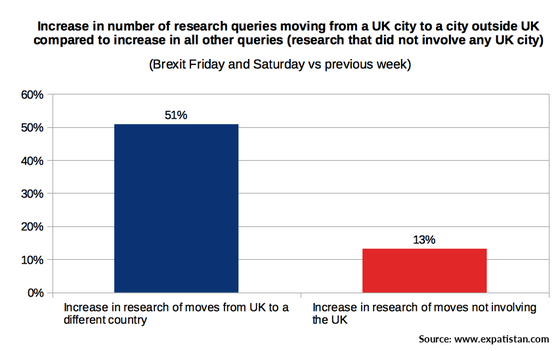 For the sake of reference, the typical number of recorded searches for a similar 2 day period on our site is around 600 from UK residents and 9,000 from across the rest of the world.
Our data suggests that the referendum result lead to many more UK residents researching a move abroad. As much as 30% more are thinking about or researching a move, even taking into account the overall increase in traffic and interest to our site.
But wait, there's more…
When we examined the number of searches per city in the UK in the two days after the Brexit result, we found a correlation between how a city voted in the referendum and the number of people researching a move away from the UK. The higher the percentage of the 'Remain' votes, the more interest there was in moving abroad from that city in the 2 days immediately after the referendum.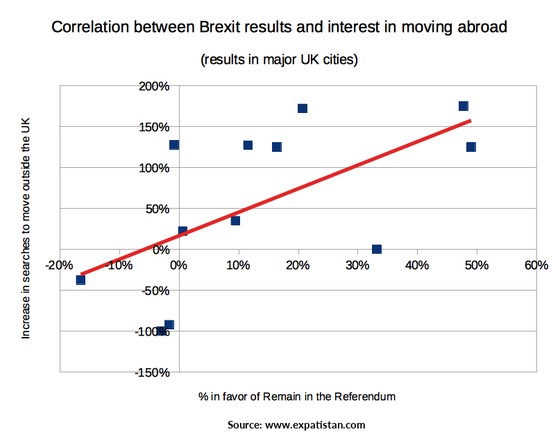 Some things to note for the numerically inclined: To minimise any noise skewing our data, we limited the results to the 12 UK cities with the most searches in the baseline period of the 17th and 18th of June (one week before the referendum) and compared it to the 24th and 25th (2 days afterwards).
Since the number of data points for some of the cities was admittedly small (13 searches in t
...
(keep reading)
---