Posted By Gerardo (gerardo@expatistan.com) on 11/11/2016
Expatistan is the original online cost of living calculator. All day, every day, we compare prices in thousands of cities around the world to help potential expats research their move to a new country. We analyse every comparison our users make in detail, so we know that certain events can spark a trend in people moving to (or out of) a particular nation.
In the wake of the Brexit referendum last June, we saw a 30% spike in current UK residents making cost of living comparisons with, well, anywhere but Britain. When Trump stormed to victory in the US presidential election on November 9th, we assumed we'd see a similar trend.
But we didn't expect this.
You may have heard reports of US residents googling 'how to emigrate' in record numbers, and you probably know that in the hours leading up to the final election result, Canada's immigration website crashed entirely. At Expatistan, we also saw a massive 141% increase in visitors from the US the day after the election: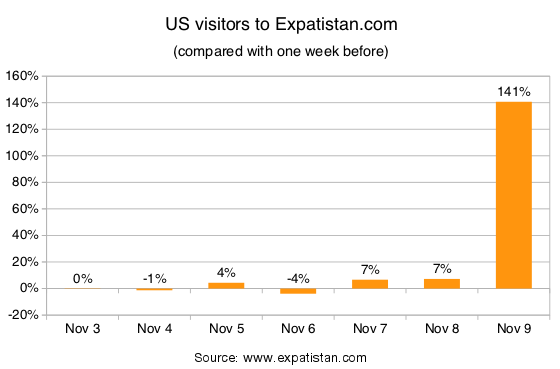 And they weren't just visiting our site for the heck of it. Americans were researching moves out of the US like crazy (while the rest of the world didn't pay much attention). We saw a huge jump of 245% in comparisons using the United States and another country.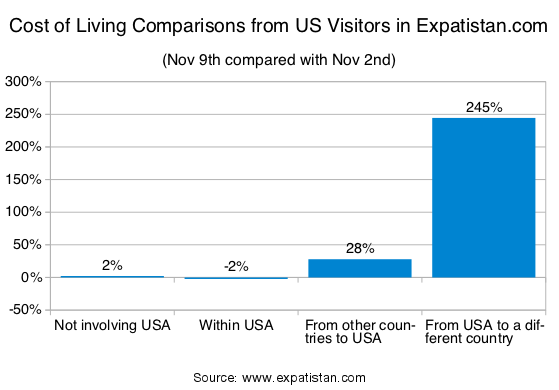 So where do all these weary US residents want to move to? Pretty much anywhere. For obvious reasons English speaking countries were at the top of list; the four most common comparisons (in order of popularity) used Canada, the United Kingdom, Australia and New Zealand.
But. Almost every other country also saw an increase in interest from US visitors, with just a few exceptions (China, Hong Kong, the Philippines and India). Take a look at the changes we saw between November 2nd and November 9th. If you ask us, it's a clear reflection of the sentiment you may have heard from many Americans since the election result: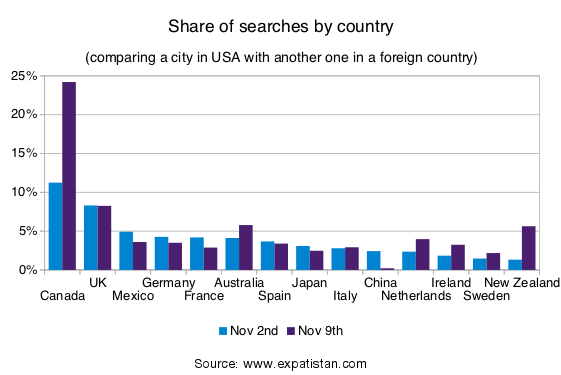 Searches for the US vs. Canada went through the roof, while definite spikes were also seen with Australia, New Zealand, and some more interesting choices of Ireland, the Netherlands and Sweden. Whether these choices were motivated by price, distance from the United States, climate or culture remains to be seen. There's no doubt that this was a presidential election like no other. Whatever your political views may be, it's safe to say that the next four years will be interesting, both in the
...
(keep reading)
via GIPHY
---