Expatistan's press room
Organizations using Expatistan's data, mentions in the press and media, press releases, and useful resources for journalists.
Market research and Analysis using Expatistan as data source
The Random Walk - Mapping the World's Prices 2013 [PDF] - Deutsche Bank Markets Research
Expatistan was used as the primary source of data to create Deutsche Bank's Analysis on World Prices in 2013.
Cost of Living Tool - Lloyds TSB | International
Data from Expatistan was used as an additional source for a cost-of-living tool created by Lloyds TSB International.
Study costs most in Australia - HSBC
Expatistan was used as an additional source of cost-of-living information for a study on costs for overseas students worldwide.
Newspapers, magazines, blogs and other media
Quick facts about Expatistan
Launched in January 2010. Created and maintained by a single developer.
Collaborative database of prices (crowdsourced, like Wikipedia). The website users enter the prices for their own cities.
Uses Prague as anchor value (Prague = 100)
851,000 prices entered in 1,616 different cities by 222,500 users coming from 150 different countries.
Compiles prices for 55 various products divided into 6 categories (Food, Housing, Clothes, Transportation, Personal Care, and Entertainment).
Compiles a real-time cost-of-living index that ranks all the cities which our statistical model considers accurate and reliable. The index includes 210 at the moment. Comparisons and data for all the 1,616 cities covered in Expatistan are accesible in the application, if not in the index.
More information about Expatistan:
Press releases
Logos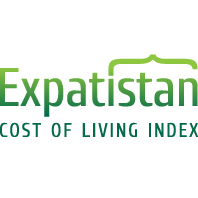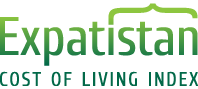 Contact
Gerardo Robledillo <gerardo@expatistan.com>